MUMMY AND BABY YOGA CLASSES
relax with your baby and feel better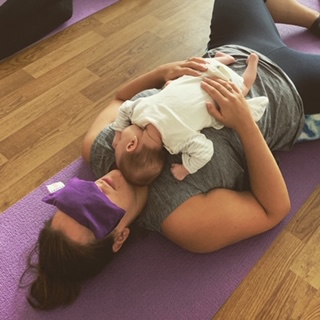 Mummy and Baby Yoga classes are now available Online and In Person.
Mummy and Baby Yoga classes include gentle postnatal exercise for you, as well as lots of cuddles, massage and singing for your baby.
Everyone loves our relaxation time at the end of each class when we get to lie down and chill out with our babies.
We make time to share parenting advice, chat and friendship.
I love supporting new mums.  I have loads of experience from parenting my own seven children and from my previous experiences as a midwife and health visitor. 
We all learn from one another and share ideas, inspiration and friendship.
You and your baby will be made to feel welcome, safe and nurtured.
Milk, poo, baby-sick and crying all welcome!
This class is suitable for mums and babies from around 6 weeks postnatal, until baby starts crawling.
You may also be interested in my Baby Massage Courses in Billericay.  
If you are feeling tired, achey or anxious after giving birth, click here to learn about my postnatal wellbeing therapies.
Sometimes being a mum can feel lonely.  Here are some ideas and suggestions which might help. 
A really wonderful session with Karen at her Mummy and Baby Yoga class. Babies are engaged and incorporated into each movement. The sessions are very relaxed and flexible to allow for feeds and nappy changes. Mum gets time for a spot of relaxation too!